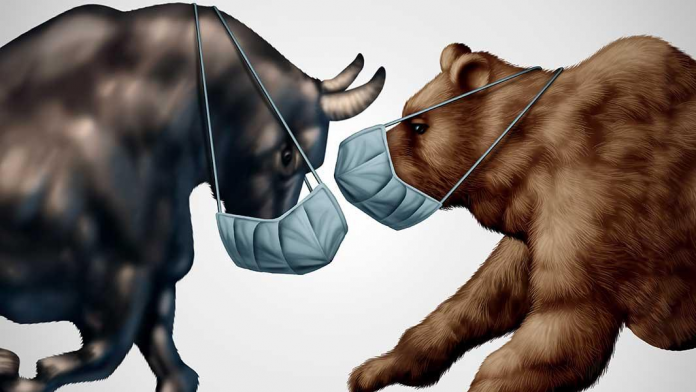 Dow Jones futures turned modestly higher early Wednesday, along with S&P 500 futures and Nasdaq futures, erasing solid overnight losses, ahead of comments by Federal Reserve chief Jerome Powell. Despite Tuesday's sell-off, the coronavirus stock market rally has come a long way from March lows. The Nasdaq is not far from all-time highs, led by Netflix (NFLX), Amazon.com (AMZN), Shopify (SHOP), ServiceNow (NOW), Apple (AAPL), Microsoft (MSFT) and other big techs
ServiceNow stock and Microsoft stock are in buy zones now. Netflix stock and Amazon stock are setting up new entries, while Advanced Micro Devices (AMD), Facebook (FB) and Google parent Alphabet (GOOGL) are closing in on buy points. All of these stocks edged higher before Wednesday's open.
But is the stock market rally disconnected from the grim economic reality? That may not be the right question for investors.
Dow Jones Futures Today
Dow Jones futures rose 0.3% vs. fair value, after being down more than 1% at one point overnight. S&P 500 futures climbed 0.3%. Nasdaq 100 futures were up 0.6%. In the coronavirus stock market rally, Dow Jones futures have been less volatile than during the market crash. But Dow futures can still show some notable swings.
At 9 a.m. ET, Fed chief Powell will speak Peterson Institute for International Economics in Washington. Investors will pay close attention for any comments about the state of the economy and likely recovery, as well as an update on various extraordinary Fed stimulus and lending programs. Several Fed officials this week have criticized the idea of negative interest rates, which President Trump touted.
Uber (UBER) and Grubhub (GRUB) reportedly haven't agreed on a price, after Grubhub soared Tuesday on Uber takeover buzz.
Remember that overnight action in Dow futures and elsewhere doesn't necessarily translate into actual trading in the next regular stock market session.
Coronavirus News
Coronavirus cases worldwide have reached 4.36 million. Covid-19 deaths are at least 293,000.
Coronavirus cases in the U.S. have topped 1.4 million, with deaths above 83,000. U.S. coronavirus cases in the past three days have hit their lowest levels in weeks. Coronavirus testing has increased substantially, with the share of positive tests falling. Much of the improvement in terms of new cases has come in the New York/New Jersey area.
Active U.S. coronavirus cases dipped to 1.028 million, the first decline since the crisis began.
Dr. Fauci, the top U.S. infectious disease official, cited concerns about reopening certain parts of the country. Los Angeles County officials expect to to extend a stay-at-home order by another three months. Meanwhile, Fed officials warned of business failures on a "grand scale."
Coronavirus Stock Market Rally
The coronavirus stock market rally pulled back, closing at session lows on some of those coronavirus shutdown headlines.
The Dow Jones Industrial Average sank 1.9% and the S&P 500 index 2.05%. The Nasdaq composite fell 2.1%, snapping a six-session win streak with an outside day, downside reversal.
Apple stock, a Dow Jones, S&P 500 and Nasdaq component, retreated 1.1%, also breaking its six-day win streak. The relative strength line for Apple stock hit a record high.
Among the best ETFs, the Innovator IBD 50 ETF (FFTY) slid 2.6%. The iShares Expanded Tech-Software Sector ETF (IGV) fell 2.35%. Microsoft stock and ServiceNow stock are big IGV holdings. The VanEck Vectors Semiconductor ETF (SMH) retreated 2.75%, with Nvidia and AMD notable members.
The coronavirus stock market rally arguably has been due for a pullback. But should it be a lot lower?
Stock Market Rally Disconnect From Economic Reality?
Many argue that there's a disconnect between the coronavirus stock market rally from the economic reality of a massive recession and joblessness. The U.S. lost 20.5 million jobs in April, and will shed millions more in May. Unemployment is expected to top 20% at a minimum. There are some positive signs, though some of that may reflect stimulus checks and coronavirus aid to businesses. Mortgage applications to buy a home rose for a fourth straight week, up 11% vs. the prior week. States and countries are starting to open up, which should further increase activity. But until there's a vaccine much of the economy will be in a lower gear or shut down entirely.
So is the coronavirus stock market rally divorced from reality? Let's take a closer look.
Coronavirus Stock Market Rally Winners
The big stock market rally winners during the coronavirus crisis aren't a surprise. Many are just outright coronavirus plays: Zoom Video (ZM), Moderna (MRNA), Teladoc Health (TDOC), Peloton Interactive (PTON), along with Netflix stock, Amazon stock and Shopify stock.
Meanwhile, AMD stock, Microsoft stock, ServiceNow stock, Nvidia (NVDA), Chegg (CHGG), Domino's Pizza (DPZ) and many others — especially software — are benefiting in various ways from the stay-at-home trend, helping people hold up or even thrive in the coronavirus crisis.
Further down, there are internet giants Facebook stock and Google stock as well as digital payments leader PayPal (PYPL). Facebook and Google are seeing strong demand from people stuck at home. PayPal is benefiting from people adopting digital payments. Facebook stock, Google stock and PayPal stock may do especially well in a world of continued social distancing but with a recovery in advertising and consumer spending.
Likewise, Apple stock and Lululemon Athletica (LULU) have broken out. Apple and Lululemon are upscale consumer discretionary companies. In the midst of a deep recession where people have been stuck at home, status-enhancing discretionary purchases would seem at risk. But, to be blunt, many people who buy Apple and Lululemon products haven't lost their well-paying jobs. If these consumers feel confident that the economy will improve, they're willing to spend today.
Also, some medicals are doing well, seemingly unaffected by the coronavirus crisis, such as Dexcom (DXCM), Vertex Pharmaceuticals (VRTX) and Bristol Myers Squibb.
Finally, a few consumer products companies like Clorox (CLX) and General Mills (GIS) were plodding along before the coronavirus crisis but have seen demand spike for cleaning products, cereal and soup.
So there's a good argument for all of these stocks to be doing well. In other words, the leading stocks in the coronavirus market rally don't seem disconnected from their companies' reality.
Given the heft of Apple stock, Microsoft stock, Netflix stock, Amazon stock, Nvidia stock, AMD stock, Facebook stock, Google stock, PayPal stock, Shopify stock, ServiceNow stock, along with many other coronavirus market rally winners, it's easy to see why the Nasdaq composite is doing so well.
Coronavirus Stock Market Rally Losers
Meanwhile, plenty of "real economy" market sectors have been badly hit: travel, leisure, energy, manufacturing and many retailers and financials. Many of these sectors are shut down.
Most of these companies were struggling before the coronavirus with beaten-down stocks. The market cap on many of these stocks is fairly low. Macy's (M), the nation's largest department store chain, has a market cap of $1.55 billion. Contrast that to Microsoft stock, with a market cap of $1.38 trillion. So solid advances by megacap techs such as Microsoft, Apple stock, Amazon stock and Google stock can offset much bigger losses by companies with lower valuations.
Still, the S&P 500 index and Dow Jones Industrial Average, with more "real economy" stocks than the Nasdaq, have made far less progress in the coronavirus stock market rally.
Keep in mind that the stock market is made up of major companies, with most "small-cap stocks" small relative to the giants, but still fairly substantial operations. The stock market is not a microcosm of the overall economy, with the millions of truly small businesses struggling to survive.
Yes, The Coronavirus Stock Market Rally Is Surprising
All that being said, it is surprising to see the stock market rally so quickly toward highs, even setting aside the economy. The old saying is that markets fall on an elevator and rise on an escalator. But the current stock market rally has run up almost as fast as the market crash.
The fact that the U.S. economy is suffering a historic contraction amid a still active pandemic makes the pace of the stock market rally even more surprising.
Follow, Don't Fight The Stock Market
But you want to pay attention to what the stock market is doing right now. Don't try to impose your opinions on it. The stock market doesn't care what you or I think.
Perhaps the market will re-evaluate the economic and earnings outlook to the downside, via a grim economic report, big corporate warning or a spike in coronavirus cases. Or, perhaps the U.S. and global economy will defy the skeptics, and will stage a relatively rapid recovery.
It wouldn't be a surprise to see the stock market move sideways for several weeks or pull back, at least somewhat.
Then again, maybe the stock market rally will surge into new high ground and beyond.
No matter what happens, if you're following the coronavirus market rally via the major indexes and leading stocks, you'll be ready to move with the stock market trend. Read The Big Picture every day to stay in sync with the market direction and leading stocks and sectors.
Top Stocks To Watch
Microsoft stock, AMD stock, ServiceNow stock, Amazon stock and Netflix stock are all on IBD Leaderboard. So is Apple stock, which is modestly extended. Meanwhile, Facebook stock, AMD stock and Apple stock are on SwingTrader.
NFLX stock, FB stock, AMD stock and NOW stock are all IBD 50 members, along with several other stock market rally winners cited above.
Microsoft stock and ServiceNow stock are on the IBD Long-Term Leaders list.
ServiceNow Stock
ServiceNow stock fell 4.7% to 365.60 in Tuesday's stock market trading. NOW stock is still above the 363.05 cup-base buy point. A pullback toward the buy point is normal, especially with race-from-the-bottom cup patterns.
The relative strength line for ServiceNow stock is still near record highs. The RS line, the blue line in the charts provided, tracks a stock's performance vs. the S&P 500 index.
ServiceNow stock can be bought now, or perhaps at 388.60, just above Monday's all-time high.
Microsoft Stock
Microsoft stock fell 2.3% to 182.51. MSFT stock is in range from a 180.10 handle on a double-bottom base. The RS line for Microsoft stock is at record highs.
Microsoft stock has the largest valuation of any U.S.-listed company. It just edges out Apple stock, which is at $1.35 trillion. Amazon stock follows at $1.18 trillion and Google stock at $939 billion.
Netflix Stock
Netflix stock sank 2% to 431.82. NFLX stock is extended from an April breakout, but has been consolidating for a few weeks. It's not long enough for a proper base, but 449.62 could serve as an entry point for Netflix stock. A stock market rally pause or pullback could offer more time for NFLX stock to form a traditional consolidation.
Amazon Stock
Amazon stock sank 2.2% to 2,356.95. Like Netflix stock, AMZN stock has been consolidating for a few weeks, though the e-commerce and cloud-computing services giant popped to a record 1,475 on April 30 just before earnings. Amazon stock fell on the earnings miss and weak guidance, but has remained in its recent range. A move above the old high would offer an entry point for Amazon stock.
AMD Stock
AMD stock sank 3.55%. The chipmaker is working on a 58.73 cup-with-handle buy point, according to MarketSmith analysis. AMD stock recently lagged some other data-center chipmakers, such as Nvidia stock and Inphi (IPHI), but may be perking up again. AMD earnings per share surged 300% and 200% in the last two quarters.
Facebook Stock
Facebook stock dipped 1.4% to 210.10. FB stock is steadily moving toward a V-shape consolidation with a 224.30 buy point. The relative strength line for Facebook stock has ramped up sharply in the last few weeks. Facebook stock once again on Tuesday was a "Blue Dot" stock, signifying stocks in bases with RS lines at new highs. They are identified on MarketSmith charts with a blue-shaded dot at the end of their RS lines.
A coronavirus stock market rally pause could offer a chance for Facebook stock to build a handle.
Google Stock
Google stock fell 2% to 1,375.18. A cup base with a 1,530.84 buy point has formed for GOOGL stock. Google stock, like FANG peer Facebook's stock, is a Blue Dot special today.